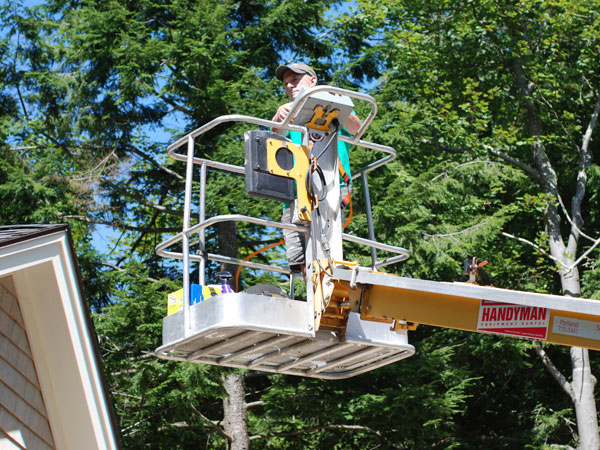 Rent an Aerial Lift, Hoist, or Jack
We rent a broad range of equipment for lifting and hoisting people, equipment, and materials. Whether you need to prune a tree or paint a high gable end of your home we've got the rental lift you need.
Lift Rental
Need to work up high on a stable and easily movable platform? We rent scissor lifts with a reach of 19'. For more precise and hard-to-reach aerial work a boom lift rental might be the best choice. Rental boom lifts range from 37' to 55'. In addition to personnel lifts we rent a number of specialty lifts for drywall and other materials.
Hoist Rental
Make an easy job of lifting heavy items with a hoist rental. We rent 20' drop chain hoists with capacities from 1 ton to 3 tons. For other pulling and hoisting needs a 1-1/2 ton come along rental might be the best choice.
Jack Rental
If you need to lift something really heavy you might consider a hydraulic jack rental or screw jack rental. We rent hydraulic jacks with lifting capacities of up to 35 tons. We also rent pallet jacks for moving heavy loads of material with ease.

NOTICE: All towable equipment requires an appropriately rated hitch, the correct ball size, and working lights. Full-body OSHA-approved safety harnesses are required in boom lifts. Customers may supply their own or purchase one from Handyman.
---
Detailed Equipment List
Click on blue-shaded items for more detail.